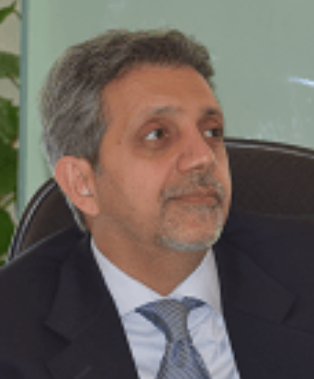 Syed Nadir Shah – Alternate Director
A business developer with twenty five years experience of capital markets, commodity trading, and infrastructure projects with an emphasis on agriculture & logistics management. An effective promoter & entrepreneur with an experienced approach for power and political systems.
CURRENT ACTIVITIES
Makara Capital. (Advisor) – Makara Capital is a private equity firm based in Singapore. The firm primarily provides financial advisory services to high net worth individuals, family offices, and corporations. It invests in companies that have intellectual property internationally. The firm manages separate client focused portfolios for its clients, focusing in real estate assets in Asia and in the Fintech sector.
Fauji Akbar Portia Marine Terminals Ltd. (Director) – The largest dry cargo handling & port storage facility in Pakistan. Facility designed and to handle 4.0m tpa, Handling of all Dry Cargo of Fertiliser & Grain, at Port Qasim 30 year concession period. Largest Private Sector Storage Facility of 150,000 mt. in Pakistan.
TPL Direct Insurance Ltd. (Director) – Introduced concept of direct call centre based auto insurance venture. Industry Leader in shortest time for claim processing & lodging.
Asia Petroleum Limited. (Director) – APL is a joint venture between international investors: Pakistan State Oil (Pakistan), Infraavest Limited (Singapore), VECO International Inc.(Alaska) and Independent Petroleum Group (Kuwait).
Princely Jets (Pvt.) Ltd. (Director) – Investor in the largest private jet venture in Pakistan with an asset base of US$50m